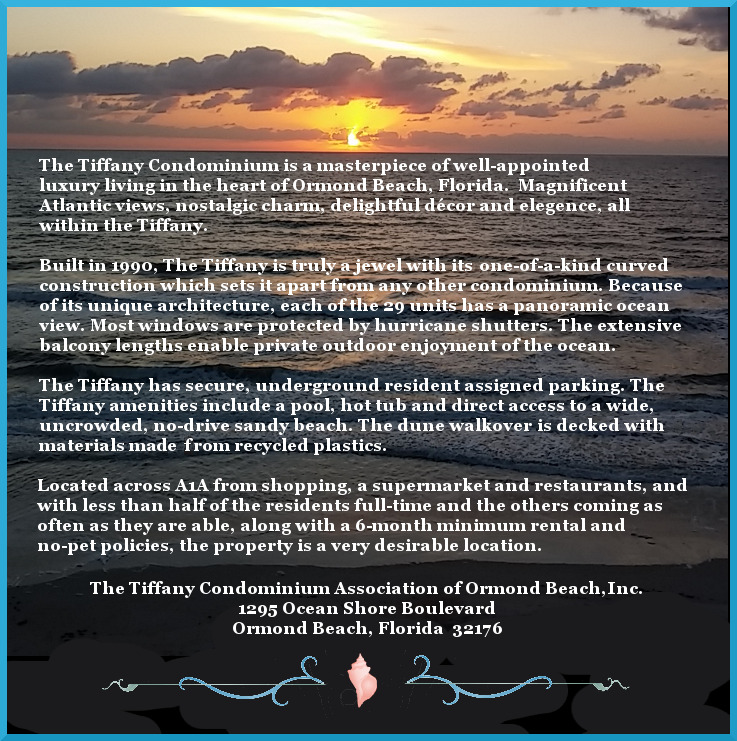 BOARD OF DIRECTORS:
Jerome Cruitt
Robert Cyphert
Steve Holcomb
__________________________________


NOTICES:

NEXT BOARD OF DIRECTORS MEETING
AFTER THE ANNUAL MEMBER MEETING,
SATURDAY MARCH 13, 2021, GATHERING ROOM


BOARD ORGANIZATION MEETING (elect Officers)


OWNERS MAY PARTICIPATE IN PERSON OR VIA REMOTE TELECONFERENCING.


Posted to website February 17, 2021



The ANNUAL MEETING of the MEMBERS of the ASSOCIATION will be held
10:00 a.m., SATURDAY, MARCH 13, 2021 in the Gathering Room.

Posted to website January 8, 2021

_________________________________

MANAGER:

LISA CAMPBELL


386-446-6333 Ext. 208


Management maintains an Owner's Portal which is the 
online source for your private finance account information.
___________________________________________
FLORIDA EXTENDS STATE OF EMERGENCY
TO APRIL 28, 2021
On February 26, Gov. DeSantis signed

Executive Order 21-45

.

The State of Emergency
declared in Executive Order 20-52, as extended by Executive Orders 20-114,
20-166, 20-192, 20-213, 20-276 and 20-315 will be extended for 60 days following the
issuance of this order for the entire State of Florida
until April 28, 2021.

Therefore, the Tiffany "Phase 2" Coronavirus Protocols remain in effect.

The Tiffany Board maintains that it is safest to follow CDC guidelines and
Florida executive orders and hope the experts are wrong rather than ignore
them and suffer the consequences if the experts are right.
Tiffany Board coronavirus pandemic protocols have never been based on
fluctuating statistics, but have complied and will continue to comply
with government issued advisories and implement the latest executive
orders. The Board respects every individual chooses their personal
comfort level of exposure risk, but in our building of shared corridors,
stairways, elevators, common areas and furnishings, one's chosen level of
risk now, more than before, determines everyone else's risk of exposure. 
___________________________________________
TIFFANY CONDOMINIUM CORONAVIRUS PROTOCOL
IN EFFECT UNTIL FLORIDA LIFTS STATE OF EMERGENCY
 Please take high COVID-19 exposure risks seriously before you pack up and "retreat" to the Tiffany.
 A single home with a yard has a much lower virus exposure risk than a high-rise building.
 You'll be sharing entrances, elevator, stairway and pool deck with others of unknown health status.
 Thankfully, most do not put everyone at risk by hosting guests who are not immediately family.
 In spite of continual sanitizing efforts, our high-rise condo shares many virus exposure risks found
 inside cruise ships and long-term care facilities.
 As in most of the country, Volusia County confirmed COVID-19 deaths continue to rise.
Though the registration process can be frustrating, COVID-19 vaccines are becoming more available 
and accessible in Volusia County.

                                                                            
                                                                  June 6, 2020                                               
                                   "PHASE 2" CORONAVIRUS  PROTOCOLS
                               
                         IN EFFECT UNTIL FLORIDA LIFTS STATE OF EMERGENCY

         ISSUED BY GOVERNMENTAL AUTHORITIES AND AFFIRMED BY THE TIFFANY BOARD OF DIRECTORS
♦  SENIORS 65+ & INDIVIDUALS WITH MEDICAL CONDITION(S) ARE STRONGLY ENCOURAGED TO AVOID CROWDS AND TAKE MEASURES TO LIMIT THE RISK OF EXPOSURE TO COVID-19. (EO 213, EO 20-139 replaces EO 20-91) 
♦ NEW FAMILY ARRIVALS from an area with SUBSTANTIAL CORONAVIRUS SPREAD [currently all states except Hawaii] are to SELF-QUARANTINE IN THE UNIT BUT NOT IN COMMON AREAS FOR A PERIOD OF 14 DAYS. Immediate family arrivals not from these areas are welcome to use the common areas, including pool and spa. (EO-316, EO-276, EO-213, EO 20-166, EO 20-139; EO 20-82)
♦  NO VISITORS or GUESTS except CAREGIVERS & IMMEDIATE FAMILY (EO-316, EO-213, EO 20-139)
♦  WEAR FACE COVERING in PUBLIC & INDOOR COMMON AREAS (CDC)

 


♦  VENDORS SHALL WEAR FACE COVERING & PPE INDOORS (EO-316, EO-213, EO 20.139; & CDC)
♦  ALL DELIVERIES to LOBBY or VESTIBULE (EO-316, EO-276, EO-213, EO 20-166, EO 20-139)
♦  SOCIAL DISTANCING: 6-feet between persons; in groups of 50 or less (EO-316, EO-213, EO 20-139)
♦  SPA: maximum 5 people in spa (Florida Spa Code)


Jerome Cruitt, Robert Cyphert and Steve Holcomb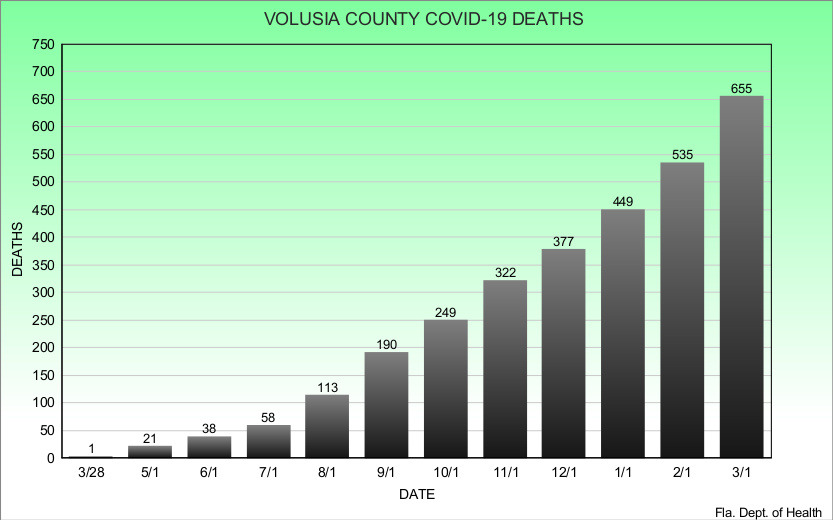 Volusia County COVID-19 deaths February~March, 2021, is record monthly increase
Tiffany COVID-19 Protocols comply with Florida Executive Orders & CDC Guidelines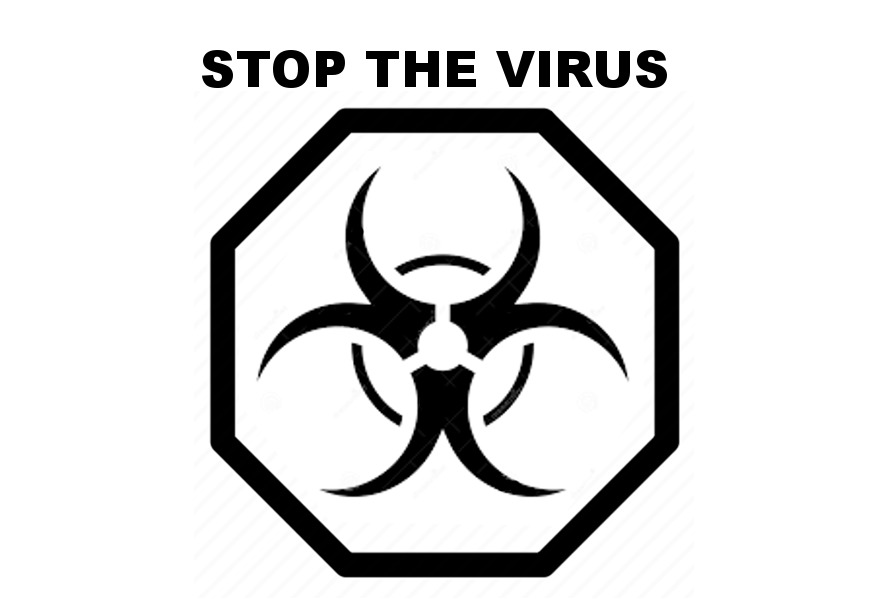 Rainbow from Tiffany balcony, July 9, 2020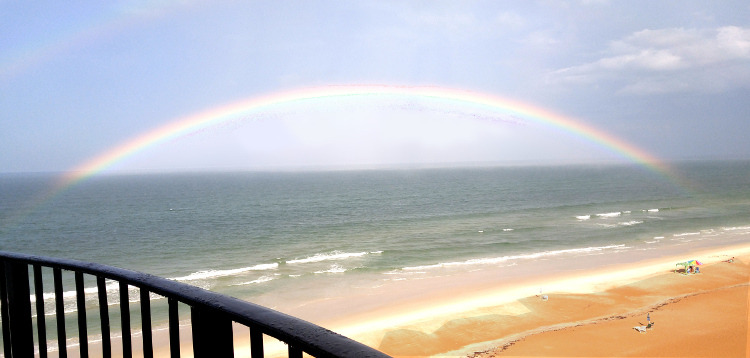 LOOK! Up in the sky!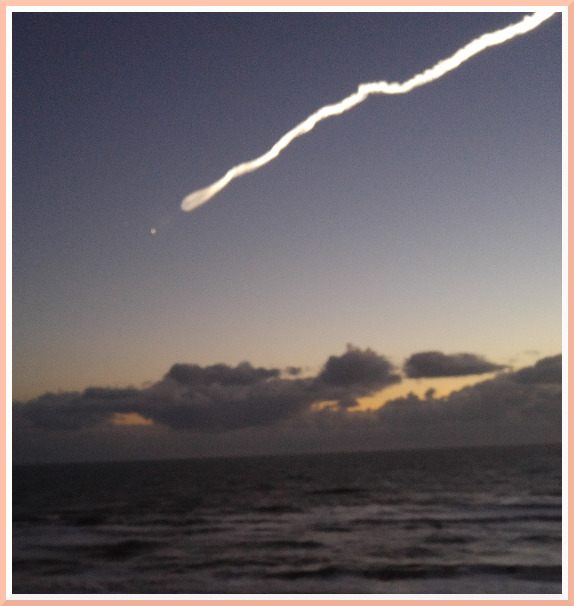 The Star of the East?      A Christmas Comet?  
NO! It's the Rocket Launch on 12/20/2019 as seen from the Tiffany!
For rocket launch schedule go to:

_____________________________________________________

This Florida Condominium website is not required to comply with 2018 Florida Statutes 718.111(12)(g)
NOTICE: This website does not provide information advertising the sale or rental of condominium units.